Description
What will it Protect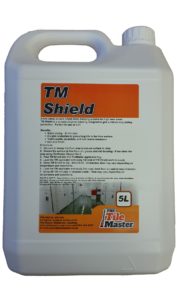 TM Shield is a low odour, durable, bright shine, polymer dressing.
Suitable for high wear areas.
Designed to give surfaces long lasting protection.
Perfect for use on LVT (Luxury Vinyl Tiles) and seal wood.
Warning: Not intended for tiles and porous surfaces  (always pre test a small area)
Where to use
Perfect for use on your floors in your Kitchen, Hall Way, Bathroom, or anywhere around your home you want to enhance your floor.
Benefits
Quick drying in 20 minutes.
Durable protection to give a long life to the floor surface.
Traffic scuffs, scratches and heel marks minimized.
Non-slip finish