Case Study
TileMaster Remove Salts and Minerals from Porcelain Tiles
Location: Hotel Nottingham
Contractor: TileMaster Technical Sales Manager Mark Ruthvern – 0161 444 0377
Surface Treated:
Textured porcelain tile in hotel spa changing room
Job History
This tile had a large build up of minerials, salts, body fats and general dirt that needed to be removed as it made the floor look unsightly.  This hotal asked tile to see if we could help with the issue as it had been getting progressively worse due to the environment and the lcoation of these tiles. Due to hand dry and the way to water runs off to grids, lots of water would sit in this area and as a result when it dried, the white scale is left behind.
Client Requirements
The customer required the following from the contractor
1) To restore the porcelain tile back to a good condition
2) Removal dirt and stains and restore the tiles original colour.
3) Help advise and implement a cleaning regime to keep the tiles clean moving forward.
TileMaster Specification
Product Selection TileMaster Pad B
The Solution
This problem needs to be hit from a number of different angles. It's a build-up of minerals and body fats that form a white hard scale that builds up on the tile. It is not easy to remove just with regular maintenance but with the TileMaster 40 Machine, it comes off and brings the tiles back to the correct finish. We use cleaner number 4. This is a safe acid to break down the mineral build up and soften it. We then add diamond dust that is a mild abrasive powder to help mechanically scratch the minerals off but with out effecting or damaging the surface of the porcelain tile. We then agitate the with the TileMaster machine and our pad B which is similar to a green scouring pad. This combo together is what achieves the results as you can see below.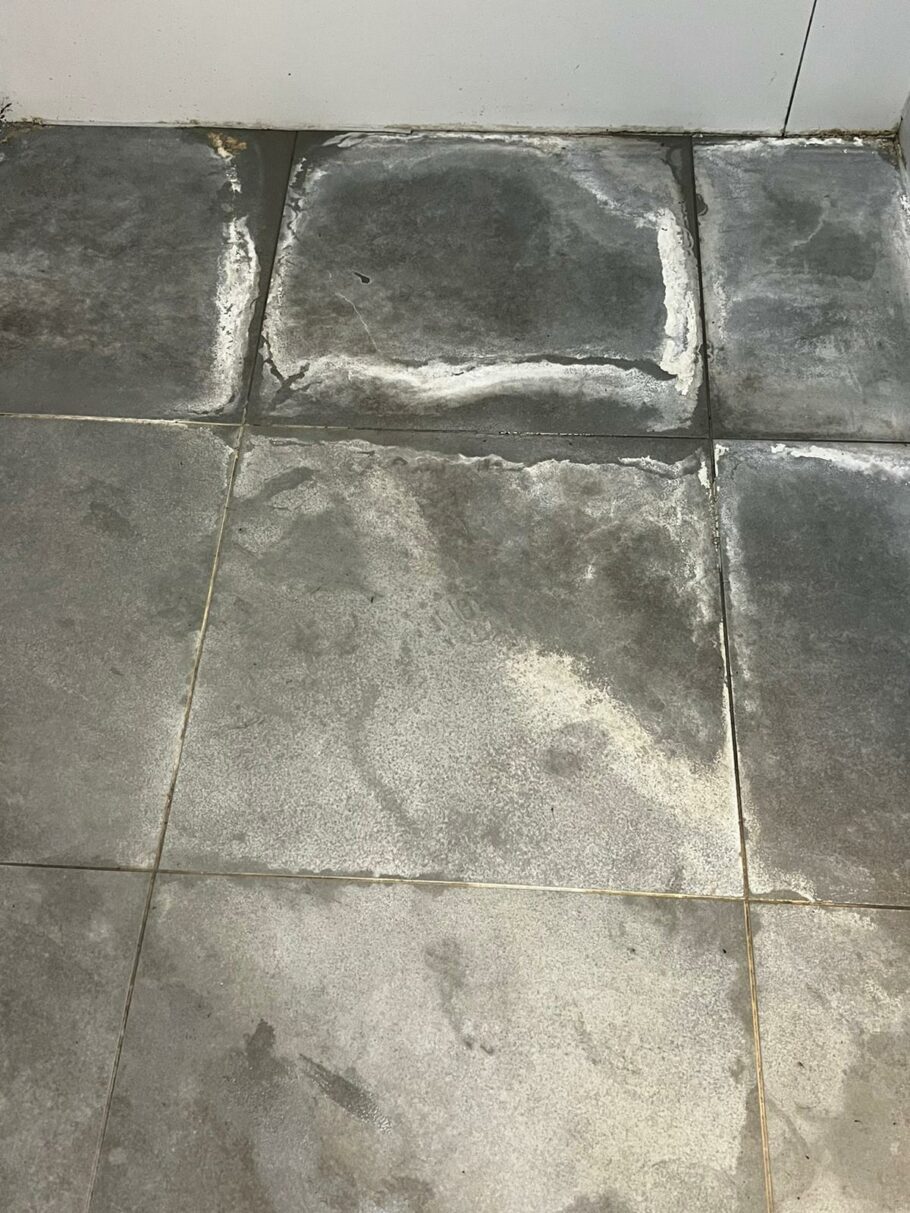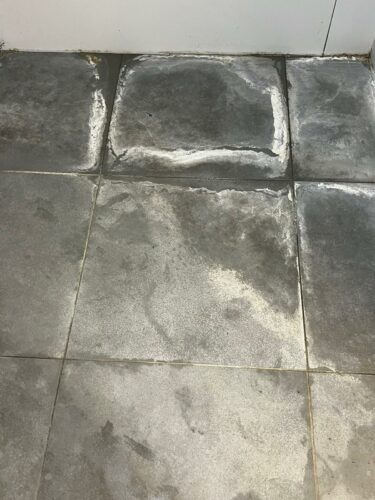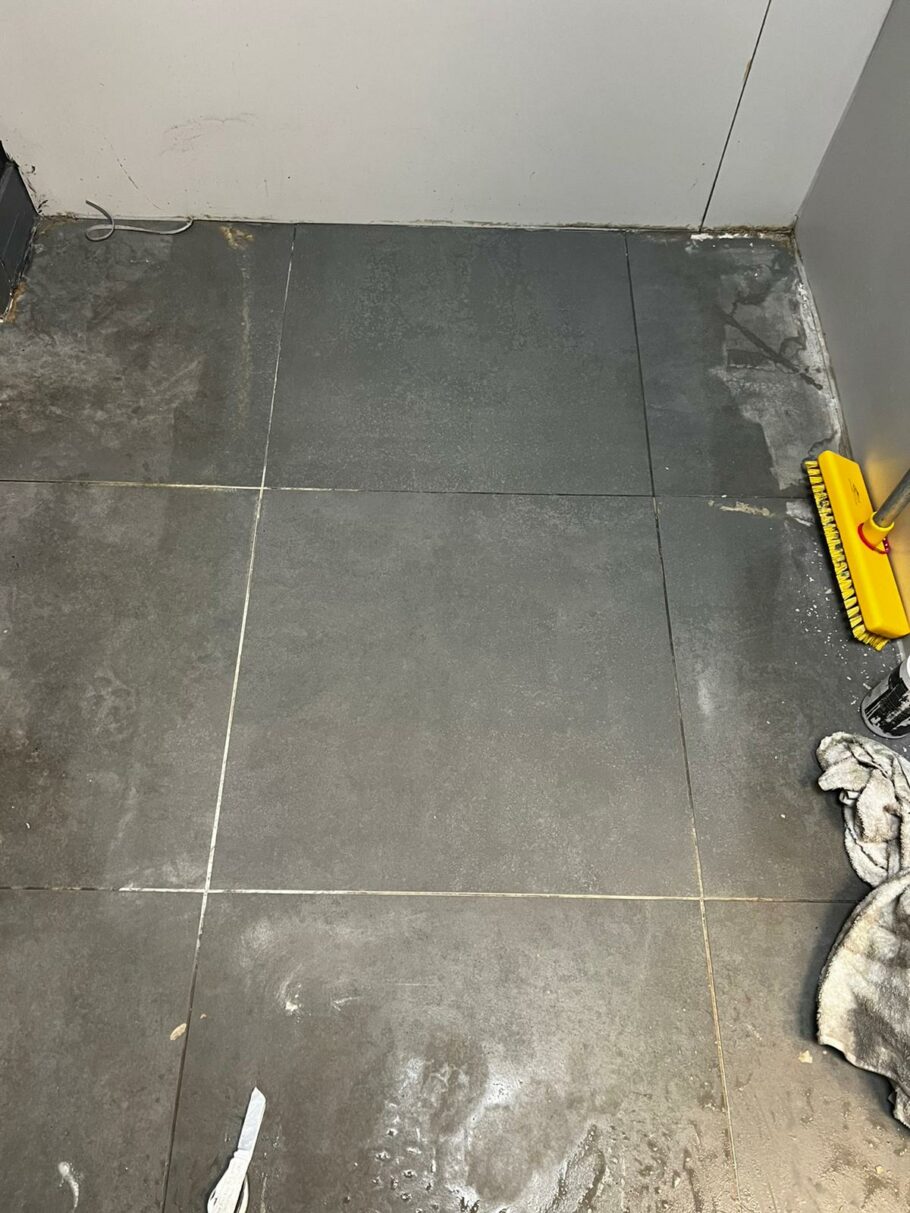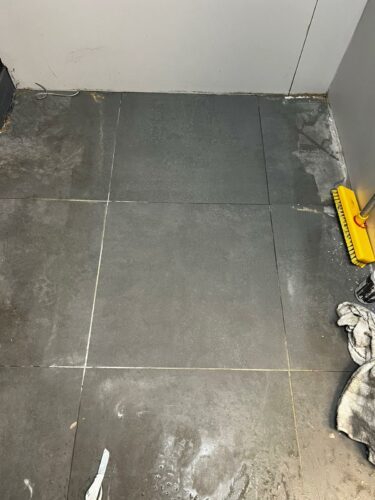 How to care for your porcelain floor once is it back to a good condition.
Aside from its construction, porcelain flooring shares a lot of similarities to tiles and hard floors, especially in its care and maintenance. The finish on a porcelain floor is typically a very tough and no pourous, making it compatible with a wide range of floor care products. Learning how to clean your porcelain floors is all about setting up a good floor-cleaning routine.
     Items needed
Cleaner Number 1 – (PH neutral clean for daily mopping)
Tradition Mop or Flat Mop
Porcelain floor cleaning schedule
Daily – dust/sweep/spot clean
Dust/sweep floors for your best daily defense against scratches and surface damage. Always dust floors along the grain. Clean spills immediately to prevent staining and moisture damage.
Get a more thorough clean than sweeping, and clean hard-to-reach areas with a vacuum or microfiber mop. When mopping, lightly mist your floor with a TileMaster Cleaner No 1 and mop.
Every 2-4 months – deep clean
If floors are looking dull and you need to restore the clean finish and renew your floor ( how often depends on foot traffic). Use clean number 3 or follow our method statement for deep cleaning your porcelain. Always test on a small part of the floor and follow the directions on the label.
  If you ned further help and have a different issue on porcelain, check out our method statements on the below link for a full in-depth step by step process to clean a porcelain floor.   Check out our full Step by Step deep clean on a textured and rough porcelain tile below https://youtu.be/4uufiM1qDHE